Holds your Hydroflask, Nalgene, or other large bottles
Sized to carry larger bottles like a Nalgene, HydroFlask, or Yeti, the HandleStash Stem Bag is insulated to hold ice for up to 7 hours. Stem Bags mount between your stem and handlebar using 3 supplied straps. One handed cinch lets you access snacks or your water bottle while on the go.
D-rings let you carry it off the bike with the optional sling strap. Water-resistant 600D polyester and ripstop nylon make this bag as dependable as it is stylish.
One-handed cinch lets you open or close it on the fly. 
3 point attachment allows adjustment to fit variety of handlebars and stems. 
Includes 3 Velcro straps. 
7 In Long x 4.5 In Diameter
Water resistant construction made with 600D Polyester and Ripstop Nylon liner. 
Made in the USA of domestic and imported materials.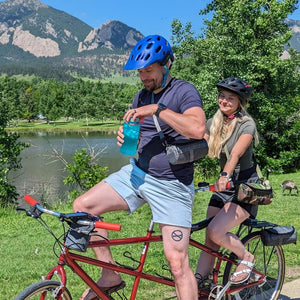 Stem Bag, Bottle Sling, or Water Pouch? You Decide!
The HandleStash Stem Bag was originally made for bikes, but it took us about two minutes of using it to discover a million more uses off the bike. Add a sling strap to use it as a bottle sling and keep your water ice cold on short hikes or trips around town. Clip it to your backpack with a carabiner to have the most insulated water bottle pouch in town.
Coordinated to match our Handlebar Bags and Cup Holders
The outer fabrics of the Stem Bags are matched to those of the Handlebar Bags and the liners are matched to our Shock Absorbing Cup Holders. Mix and match all of them to coordinate your handlebar setup and stash all the gear and drinks you need for your ride.
Why Use a Stem Bag?
Compared to the HandleStash Cup Holder, the Stem Bag is larger (big enough for a Nalgene) and Insulated. Really Insulated. Both are great for carrying bike water bottles, while the Stem Bag excels at holding larger bottles or as general storage. The cup holder on the other hand is perfect for cans, to-go drinks, and smaller bottles.
Stem Bags are a great way to add water capacity and keep it within easy reach. It's not a replacement for a bottle cage, but an addition. They're best suited for gravel, bikepacking, urban ebikes, and touring. Mountain bikes
What kind of straps can I use?
The HandleStash Stem Bags are designed for flexibility and can be used with just about any strap you choose. We include three 8 inch long Velcro one-wrap straps with each bag. Voile Straps are a popular option that many prefer. Of course if you're using it as a bottle sling you don't need any straps at all.
Mount on either side, or both!
These Stem Bags are designed with a full circle of webbing up top and vertical rows on opposide sides so they can be mounted on either side of your stem. Put two on your bike and double your water and snack capacity!