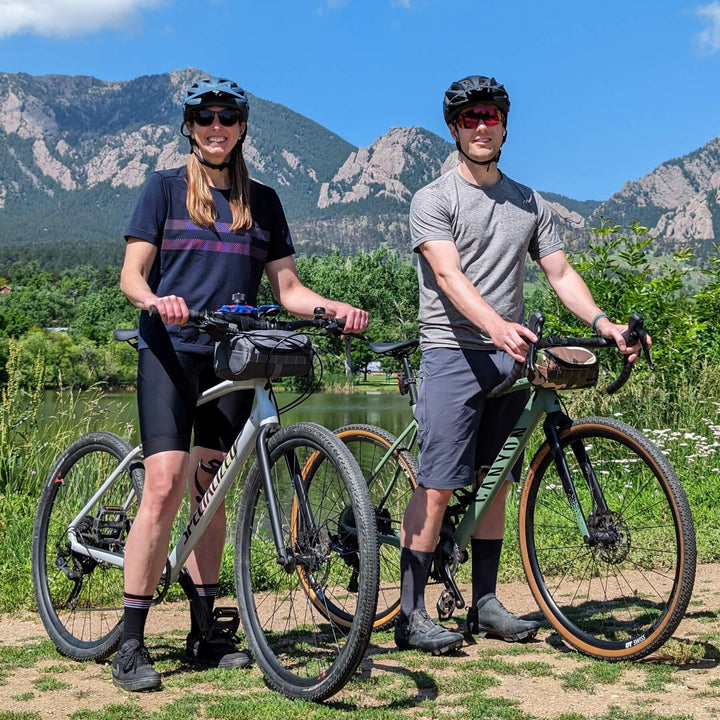 Perfect Size handlebar bags
2 Liter capacity holds your essentials without being so big it gets in the way. Tote your essentials with ease with the Handlestash Handlebar Bag! Perfect for short or long trips, this wide-opening bag is the perfect size for easy access to your repair kit, keys, wallet, and phone. D-rings let you carry it off the bike with the optional sling strap. Water-resistant 600D polyester and ripstop nylon make this bag as dependable as it is stylish. Get ready to ride in style!
Wide opening zipper for easy access. 
3 point attachment with numerous attachment points. 
Padded construction to protect your cargo. 
Includes 3 Velcro straps. 
Water resistant construction made with 600D Polyester and Ripstop Nylon liner. 
Made in the USA of domestic and imported materials. 
4.5 Stars by Roadbikerider.com
"The high-quality construction combines padded, water-resistant 600D polyester and ripstop nylon fabric to protect your valuables. The wide opening zipper and contrasting lining make it easy to grab or find an item while on the bike easy."
Introducing the HandleStash Handlebar Bag
Our Handlebar Bag is meticulously crafted with both practicality and durability in mind. Constructed from high-quality materials including 600D Polyester and a Ripstop Liner, this bag is designed to withstand the rigors of your cycling journeys, whether you're tackling rugged trails or cruising through city streets. It boasts an impressive 2 Liter storage capacity that allows you to carry essential items such as your phone, keys, wallet, snacks, and more, all within arm's reach.
Unparalleled Convenience
The convenience of our Handlebar Bag is unparalleled. Featuring a wide mouth opening, easily access your belongings without straining to put everything back into place. Structural foam holds the bag's shape for an easy one-handed opening. Adjustable Velcro straps provide flexibility in mounting, and D rings let you use it as a sling bag off the bike, making it an excellent companion for daily commutes or short stops.
Weather Resistant Protection
Weather can be unpredictable, but with the HandleStash Handlebar Bag, you can rest assured that your belongings will remain protected. The bag is constructed with weather-resistant materials, shielding your items from rain, dust, and other external elements. Additionally, the sturdy zippers and reinforced seams enhance the bag's overall durability, providing long-lasting protection for your valuables.
Versatility and Compatibility
Our Handlebar Bag is designed with versatility in mind. It fits perfectly on most handlebars, making it compatible with a wide range of bike models. Whether you ride a road bike, electric bike, or gravel bike, this bag seamlessly integrates into your setup, adapting to your specific cycling needs. Furthermore, its sleek and stylish design complements any bike, enhancing both its functionality and aesthetics.
Made in Colorado, USA
Just like our original cup holder, the HandleStash Handlebar Bags are all made in the USA in Colorado. We work with a local cut and sew business who specializes in bag construction, and we rigorously test all our designs on the roads and trails of Colorado.  
Conclusion: The Best Handlebar Bag for Any Ride
Elevate your cycling adventures to new heights with our premium Handlebar Bag. Engineered with durability, convenience, and ample storage capacity, this essential accessory is designed to optimize your cycling experience. From its user-friendly opening to its weatherproof protection, our Handlebar Bag provides the perfect blend of functionality and style. Don't miss out on the opportunity to enhance your rides—order your Handlebar Bag today and embark on your next cycling adventure with confidence.