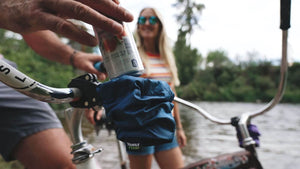 The shock absorbing cup holder
Stress tested on the harshest roads and trails.
Shock Absorbing Cup Holder
SUSPENSION DESIGN REDUCES SPILLS
Elastic cinch at the top and built in spring combine to make the world's only shock absorbing cup holder.
Let customers speak for us
Adjust to any drink.
Elastic cinch adjusts to anything from a skinny cans, to coffee cups and water bottles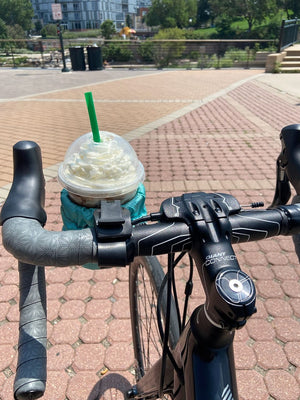 Hold any drink
Cool down rides have never been better.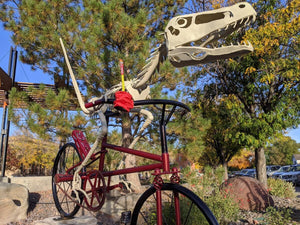 MADE FOR ANY BIKE
No matter the style.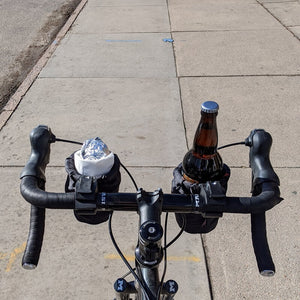 Stash a Burrito
Grab takeout on your bike.
MADE BY PEOPLE WHO RIDE
MADE IN COLORADO, USA
We love bikes of every size and shape - and it shows in every detail of the products we create.
INSPIRED BY SPILLED COFFEE WHILE CRUISING THE BEACH.
The first time we tried to use a bicycle cup holder it ended in a coffee shower. The rigid design of other cup holders for bicycles meant that the force of a small sidewalk bump launched the coffee cup into the stratosphere, and any drink would rattle, bounce, and spill.
We decided to take a softer approach.
QUICK CLAMP OR BOLTED-ON INSTALL
We're not your mom: we won't tell you what to do. 
Tools free quick release handlebar mount is easy to take on and off your bike, or replace the quick release with the included bolt for a more secure handlebar cup holder mount.
Not just for cruiser bikes
Carry an extra water bottle on any ride
The HandleStash Bicycle Cup Holder easily adapts to any bike or riding style from e-cargo bikes to gravel and more.
Whether you want to carry an extra water bottle on your handlebars, bring coffee on your commute, or stash a road soda for your Wednesday night cruiser ride it's the perfect cup holder for you.
Bike Tips, Ride Ideas, and More
View all
NEED MORE REASONS TO GET A BIKE CUP HOLDER?
ALL THE COLORS OF THE BIKE CUP HOLDER RAINBOW
The HandleStash Bike Cup Holder comes in a variety of colors and patterns.
Party Prints are here to make the best cup holder on earth even better. The Colorado Flag is rarely available on ANY clothing or gear, so we're taking a super unique approach by plastering it all over the HandleStash cup holder. Two Tone keeps the off beats on, and if you think that the checkered pattern was invented by a shoe company named after a soccer mom vehicle, we recommend you study music history. If you like to get loud then nothing compares with Party Panther. All the party prints are made with our signature diamond fabric to keep you and your bike looking 11/10.
Last but not least is Double Rainbow: What does it mean??
MORE THAN THE BEST BIKE CUP HOLDER
We created HandleStash to make the Best Bike Cup Holder in the world. Since launching in 2020 we've changed almost every single part of the design: from adjusting the elastic to better reduce spills, to introducing more colors and improving the attachment hardware to make sure everything stays where it should.
There are a lot of bike cup holders out there, and we are confident we've made the best one on earth, although we still have a few ridiculous ideas up our sleeves. Now that we've perfected the bicycle drink holder, we are stoked to add new bike accessories to the lineup.
We released new handlebar bags and stem bags in 2023 to address the issues we saw with other bags.
TRY IT ON YOUR STROLLER, MOTORCYCLE, GOLF CART, OR HANG GLIDER
We want to hold your drink no matter what you're doing, and that's why we're testing the HandleStash Cup Holder on boats, strollers, scooters, golf carts, wheelchairs, snowmobiles, and anywhere else we can clamp it. You better believe there's one on the shower head at home. We've already got some great feedback on strollers, and have heard from lots of people that there's a real need for a better boat cup holder.
If you have somewhere you've been dying to carry a drink, please let us know! Don't forget we have a Ride Happy Guarantee– if you get one for your hang glider and it doesn't work out you can return your HandleStash for any reason. If you do use it on something weird or wild PLEASE share some photos!
HANDLEBAR BAGS AND MORE BICYCLE ACCESSORIES: COMING SOON
We've also got some other on-bike storage accessories in the works; those of you asking for something to carry your over sized Yeti, Hydroflask, Nalgene, etc: we hear you. Our stem bag is now available and designed to hold a Nalgene and will easily convert into a sling bag off the bike. The bike cup holder design is amazing for drinks like cans, bottled water, iced coffee, and road sodas but we're red blooded Americans and we're only happy with the BIGGEST of everything. We're working on a handlebar bag that's large enough to carry your giant Yeti cup.
Our seamstress has some great ideas for some pannier bags, and a top tube bag is a definite possibility. We don't want to be just another bike bag company, though, so we promise any product we make is going to be unique and bring something a little different to the market...because we're definitely a little different. It's also going to be made here in Colorado as whenever possible.
Give us a follow to keep your ear to the ground about what we're building next, and we'll promise not to flood your inbox.