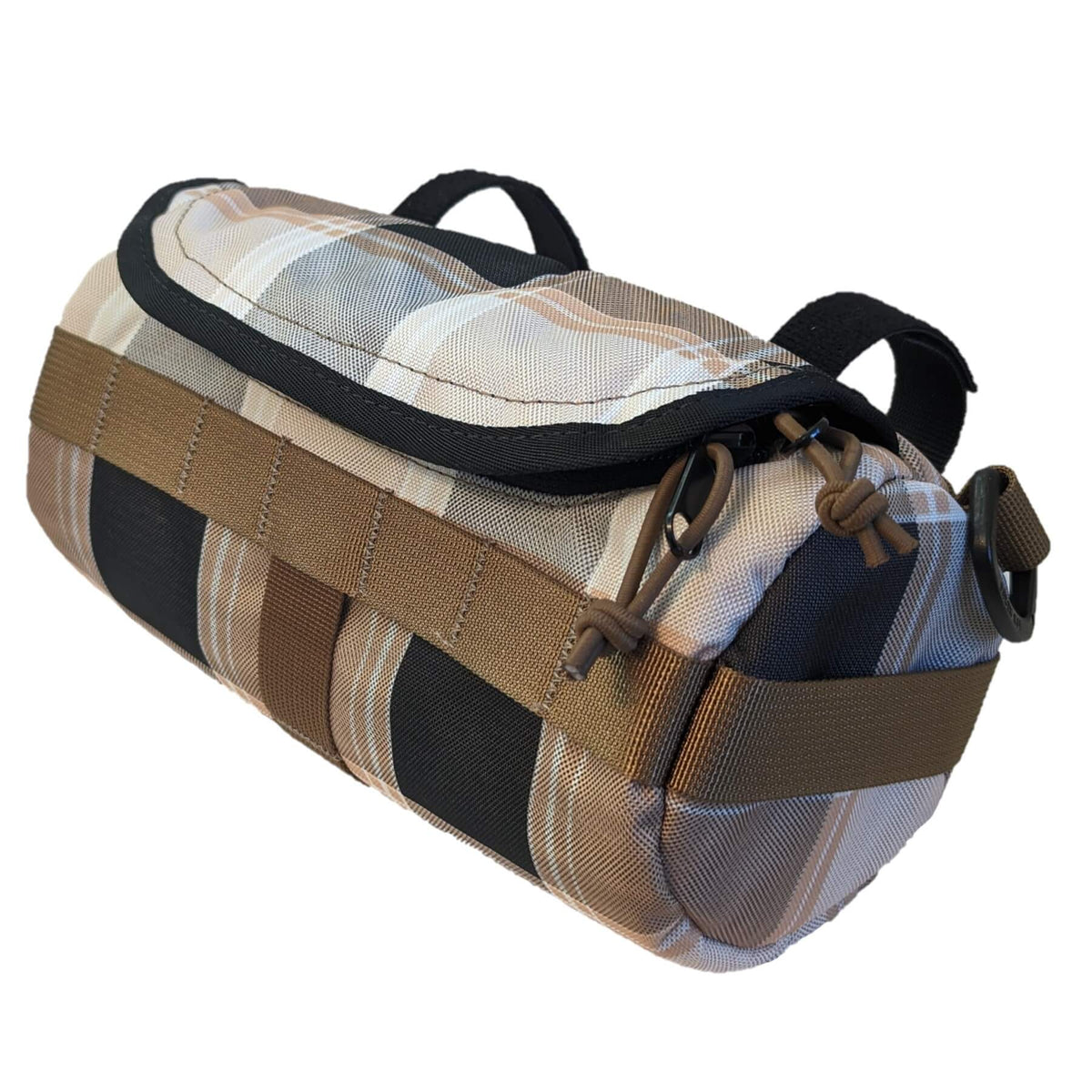 Bigmouth Burrito Handlebar Bag - Plaid Max
---
Free USA Shipping Over $45
Free Intl Shipping Over $75
In stock, ready to ship

Inventory on the way
My name is Max. My world is tires and mud. Once, I was a cloth. A scrap of cloth searching for a righteous cause. As the stitches fell, each of us in our own way was broken. It was hard to know what I would become. I am the one who runs both horizontal and vertical. Hunted by Scotsmen. Haunted by scraps I could not protect. So I exist in this plaid bag. A bag reduced to a single instinct: to hold gummy bears.
My name is Plaid Max… that's my name. 
2 Liter capacity makes this the handlebar bag Goldilocks dreamed of: not too small to hold your stuff, not too big that it gets in the way. It's Juuuuust right. The unique wide-opening zipper gobbles up your stuff with ease.
Contrasting webbing gives you tons of ways to strap it to your bike or post-apocalyptic car and strap extra gear to the outside. Sling it over your back with the optional strap and clip your tail light to the webbing for quick rides to the store or pub.
D-rings let you carry it off the bike with the optional sling strap - just don't call it a purse! It's a sling bag, and yes you should absolutely wear it at your next festival. It totally goes with your shoes.
Water-resistant 600D polyester and ripstop nylon make this bag as dependable as it is stylish. 
Wide opening zipper for easy access. 
3 point attachment with numerous attachment points. 
Padded construction to protect your cargo. 
Includes 3 Velcro straps. 
Water resistant construction made with 600D Polyester and Ripstop Nylon liner. 
Made in the USA of domestic and imported materials. 
Dimensions: 9 In Long x 4.5 In Diameter (23cm x 12cm)
Weight: 4.7oz (133 grams)
All orders ship from our Denver, CO warehouse.
Free shipping in the USA for orders over $45. Orders placed before 1PM Mountain Time typically ship same day. Free shipping is typically USPS First Class, but we may also use UPS ground. 
International economy shipping, where available, is free for orders over $75 USD. Please note international economy can take 3-5 weeks to arrive and additional customs, duties, and VAT may be due upon delivery.
Delivery times are estimated by the carriers and cannot be guaranteed (but we'll do everything we can to make sure your order gets there in time). 
How does the Handlebar bag attach?
Three Velcro straps are included, and the bag has attachment points in two horizontal rows and a third down the middle. It is typically strapped to the handlebar on both sides of the stem, with the third strap available to attach around the headtube if extra stability is needed. 
What is it meant to carry? 
The most common use is to carry a repair kit, spare tube, keys, wallet, and sometimes an ultralight rain jacket. 
Can I use it off the bike?
Absolutely! The optional sling strap lets you carry it for hikes, festivals, fishing, or wherever you want to keep your essentials easily accessible and out of your pockets. 
What does it mean that it's water resistant and not waterproof? 
The bag is constructed with waterproof fabric and will protect the contents from light rain and the occasional super soaker. It does not have taped seams or a waterproof zipper so extended exposure to water can allow some to make it through. 
Get 10% off when you buy 2+ Cup Holders, Handlebar Bags, Stem Bags, or Xnito Helmets. 
Code: TenOnIt
Get $20 off when you spend $100+
Code: RollingOn20s
Half off a Handlebar Bag, Stem Bag, or Cup Holder when you buy a Handlebar Bag or Stem Bag. 
Code: DoubleBagIt
$10 Tee Shirts Here
Free Shipping in the USA over $45
Free Worldwide Shipping over $75 (3-6 weeks for delivery)